A picture is worth a thousand words…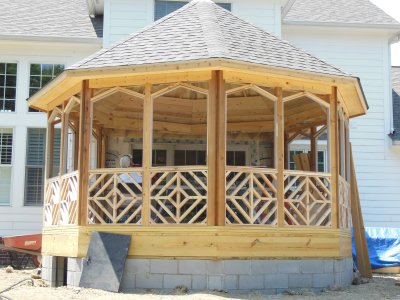 The railing/wainscot was done in our shop and is being installed along with the wood ceiling. The heat has been a challenge but not a game stopper!

Look at Us Now
The roof is on and we are making good progress.

Week 3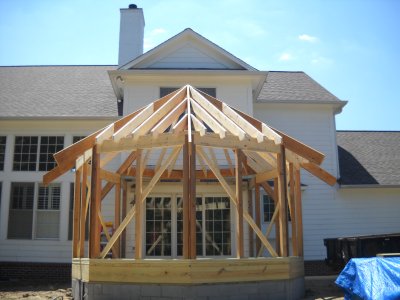 The skeleton of roof and walls now give you an idea of what this is going to be!

This Is The Goal
Watch as we progress toward this goal in The Village of West Clay.

So Far
This is what we have done so far...

The Before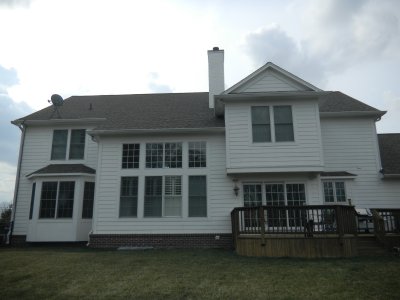 This is where we begin ....

Zionsville Basement
This basement in Zionsville received ALL kinds of attention in addition to a"basic finish" for family area, bedroom and full bath: bathroom & kitchenette/bar have two-tone cabinetry, granite tops and tiled floor...beautiful entertainment center was fashioned in our millwork shop and stained on site to match. Now let the entertaining begin...

Geist Make-Over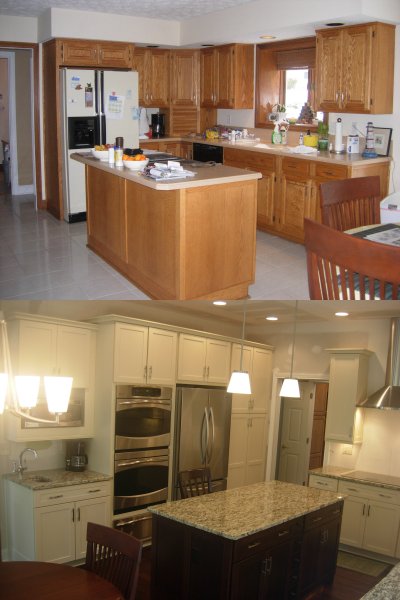 This kitchen was probably nice when the house was built...but look at it now.
Painted/glazed cabinets w/crown detail, granite tops, new wood floors, beautiful SS appliances. What a difference!

An Elegant Bathroom
This bathroom needed updating and got it: new custom travertine shower with all the amenities and frameless shower enclosure, new travertine floors, granite countertops, glass block window, crystal chandeliers, framed beveled mirrors, pewter fixtures. SO Beautiful!

Stunning Millwork!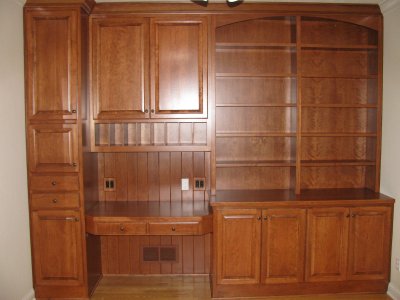 We were commissioned to fill this wall with custom Cherry cabinetry hand made in our shop. We did just that.

Inside and Out…
Inside and outside they are beautiful.

North Willow Farms Basement Finished
This basement was full of "stuff" that went into a POD so we could perform this magic. There are two opposing 12' wall-in storage closets like the one shown...a full bath with shower in the corner...and yet lots of unfinished storage remains as well.

Geist Kitchen Update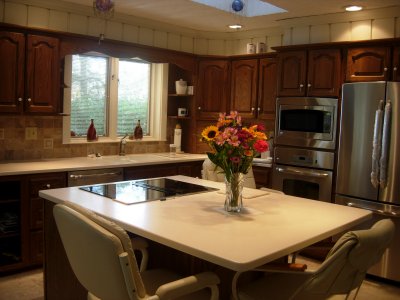 We made this kitchen SO much more attractive with a new floor, tops, backsplash and additional lighting. The new appliances required custom millwork so that we could keep the old cabinets...and we recessed the refrigerator into an adjacent bedroom closet. The Owner is very happy with his choices -- as he should be.

Modern Conveniences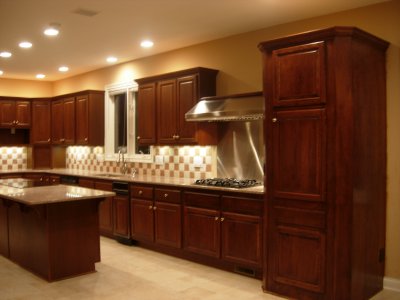 In addition to replacing floors, tops, enhancing lighting, and re facing the fireplace...we built custom cabinets to match the existing to accommodate an additional gas cooktop and a dumbwaiter to the lower level. You cannot tell the old from the new -- that was our goal!

Meridian Hills Kitchen
We took a 1925 plaster kitchen and made it POP! The cabinets are paint/glazed...the subway tile is "crackled"...the tops are granite. We custom-built some of the cabinets in our millwork shop to match the new.
This kitchen is "period" gorgeous and gorgeous period!

Can't Tell This is a Basement!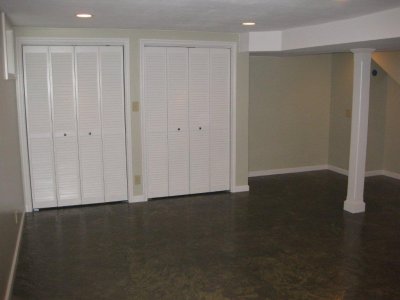 The detailed millwork...railing, doors and trim...really made this final product outstanding.

Meridian Kessler Basement Finished
Meridian-Kessler basement was a disaster. ALL the plumbing, heating and electrical systems needed updating. A new concrete floor was poured and color-stamped

Fishers Room Addition
Progress photo #4. At this point...the Owner is taking over and finishing the project as planned! We left him in good shape to do so.

To This …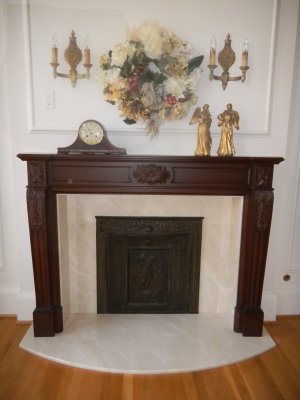 The Owners wanted to make this fireplace their own with a marble that blended with their décor…very elegant.

From This ...
This was the fireplace "before"…

Ceiling GOT an Update!
We dust-protected everything…sanded off the popcorn texture on the ceiling…removed the bulkheads…installed recessed lighting…repaired the drywall…re-textured the ceiling…painted…cleaned up thoroughly and left tulips on the table. You could not tell anyone had been there.

Ceiling Needs an Update!
While the Owners were on vacation…we came in and voila…

WOW!
You wouldn't believe how this looked BEFORE the wood floors -- what a difference!

The Porch Has a New Window Wall
The porch has a new look…and the view is one of water…nice.

The Floors are Finished
With the slate countertops on the cabinets in now (but not in the photograph) we're done…just in time for the Colts Game on Sunday! Better hurry and install that TV:-)

Beautiful New Fireplace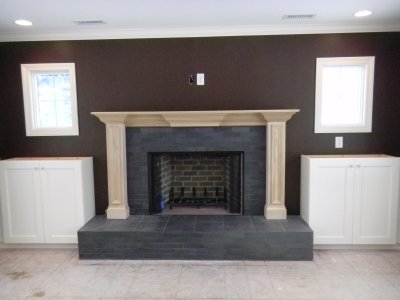 We have been making good progess as we head down the home stretch. The millwork has turned out beautifully! The Owners just love the new mantle and tile work. The hearth is slate...very cool.

Another Porch Conversion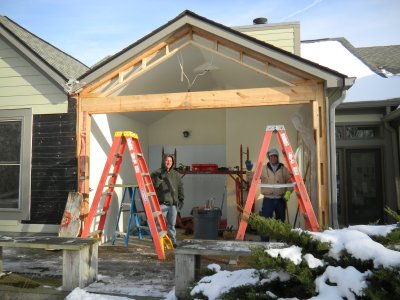 We've started another porch conversion.
This room is also badly deteriorated and we are replacing the window wall.

The "Before"
This original "porch" looked stable...but in fact was freezing cold and deteriorating in all aspects!

Wood Floors are Installed
The wood floors are down and being stained today. Then we'll add slate countertops, install the TV over the fireplace, and we'll be all finished. Look now at the "Before" picture.